AUTHENTICALLY ITALIAN
Arva's menu is a celebration of authentic Italian flavours. From specialities such as Risotto all'Astice e Frutti di Mare to the finest classics such as Fettuccine alla Bolognese – Arva's dishes are perfect for sharing.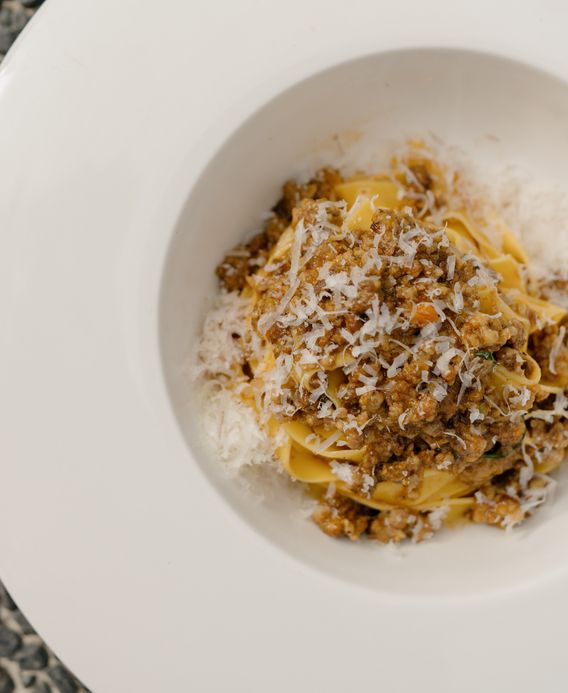 Summer Menu
Arva salad (v)
From the garden: Baby beetroot, baby carrot, cherry radish, endive, apple vinegar
Radicchio e mozzarella di bufala (v)
Italian buffalo mozzarella, pomelo, aged Aceto balsamic
Ricotta fatta in casa (v)
Homemade ricotta, orange compote, baguette
Foie gras al vino
Foie gras with port wine served two ways: Seasonal strawberry, mango Beetroot, cranberry, brioche
Selezione di ostriche gillardeau (3 pieces)
Gillardeau oysters, champagne sorbet, pomegranate, limoncello jelly
Iberico
5J Iberian ham, pickles, melon
Tartare di manzo
Australian Wagyu M8 beef tartare, truffle parmesan, Japanese egg, black truffle and mustard dressing
Gamberi dolci & burrata
Sweet red prawn, Beluga caviar, burrata, beetroot, microgreens, confit lemon
Cavolfiore (vg)
Roast cauliflower, hazelnut and honey puree, pickled onion, lemon zest
Calamari fritti
Deep fried calamari, tartare sauce
Vitello tonnato
Australian thinly sliced veal, Tonnato sauce, capers
Antipasto misto sharing
Spanish ham, truffle cheese, pecorino Romano, parmesan, gorgonzola, salted olives (Gaeta, Kalamata and Cerignola), foie gras mousse, nuts, chili Cantabrian anchovies and Primitivo wine
Minestrone (vg)
Seasonal vegetable soup
Zuppa di asparagi verde
Seasonal asparagus soup
Zuppetta di pesce
Mussels, sea prawn, clams, scallops, capers, cherry tomato, garlic bread
Risotto all'Astice e frutti di mare
Baby lobster risotto, asparagus fresh scallops cuttlefish, mussels, Beluga caviar
Fettuccine alla bolognese
Homemade egg pasta, Australian beef ragout, red wine, parmesan
Linguine alle vongole & bottarga
Clams, chili, parsley
Ravioli
Homemade seafood ravioli, lobster reduction, Beluga caviar
Spaghetti al pesto & ricci di mare
Pesto spaghetti, Japanese fresh sea urchin
Cernia
Pan fried grouper, truffle potato croquette, curried carrot puree
Polpo
Grilled octopus (200gr), herbs, crispy quinoa, clams, beetroot, pesto
Merluzzo
Pan seared Atlantic cod (200gr), barley, sundried tomato, beetroot, fish stock
Maialino
Slow cooked suckling pig, plum sauce, apple puree, baby carrots
Agnello
New Zealand rack of lamb, pistachio and mustard, pumpkin puree, cabbage, cauliflower, carrot chips, purple potato, truffle
Filetto
Australian Wagyu M8 beef (200gr), Sichuan pea puree, carrot puree, Primitivo poached pear
Tagliata di carne
Australian Wagyu M8 rib-eye (320gr), baby vegetables, purple potato puree
Tomahawk
Australian Wagyu M7 tomahawk steak (1kg on the bone)
Costata
Australian S-OX Florentine M9 T-bone beef steak (1kg on the bone)
Astice
Grilled whole Boston lobster, king prawns (4 piece), scallops (4 piece), calamari(4 piece), catch of the day (2 piece), scampi (2 piece), oysters (2 piece), seasonal vegetables
Rosemary potatoes (v)
Sauteed spinach (v)
Green salad (vg)
Broccoli, chili and garlic (vg)
Sauteed mushrooms (v)
Tiramisu
Pastiera napoletena
Traditional ricotta cake
Parfait al limone
Italian lemon parfait
Nicola's cannoli alla siciliana
Sicilian cannoli, homemade ricotta, candied fruit, pistachio, chocolate
SORBETTI E GELATI ARTIGIANALI
Homemade lemon sorbet, mint
Homemade green apple sorbet
Homemade stracciatella gelato
Homemade vanilla gelato
Homemade strawberry gelato
Please note that this is a sample menu and dishes are subject to change based on availability of ingredients and seasonality.
Consuming raw or undercooked meats, poultry, seafood, shellfish, or eggs may increase your risk of foodborne illness. We ask that all guests kindly inform their server of any dietary restrictions before they dine.